A.C.MILAN | Associazione Calcio Milan

Associazione Calcio Milan, commonly referred to as A.C. Milan or simply Milan , is a professional football club based in Milan,Lombardy, Italy. Milan was founded in 1899 by English lace-maker Herbert Kilpin and businessman Alfred Edwards among others.The club has spent its entire history, with the exception of the 1980–81 and 1982–83 seasons, in the top flight of Italian football, known as Serie A since 1929–30. With 18 officially recognised UEFA and FIFA titles, they are the third most successful club in the world in terms of number of international titles, together with Boca Juniors but behind Real Madrid and Al Ahly, both with 20 titles. Milan has won a joint record of three Intercontinental Cups and one of its successor, the FIFA Club World Cup. Milan have also won the European Cup / Champions League on seven occasions, second only to Real Madrid.
They have also won the UEFA Super Cup a joint record five times and the Cup Winners' Cup twice. Milan has won every major competition in which it has competed, with the exception of the Europa League (in this competition they have lost two semi-finals, in 1972 and 2002). Domestically, with 18 league titles, Milan is the joint-second most successful club in Serie A, behind Juventus (32 titles), along with local rivals Internazionale.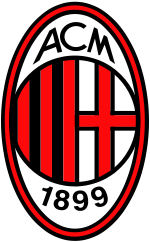 They have also won the Coppa Italia five times, as well as six Supercoppa Italiana triumphs. Milan's home games are played at San Siro, also known as the Stadio Giuseppe Meazza. The stadium, which is shared with long-lasting city rivals Internazionale, is the largest in Italian football, with a total capacity of 80,018.
Inter are considered their biggest rivals, and matches between the two teams are called Derby della Madonnina, which is one of the most followed derbies in football.As of 2010, Milan is the third most supported team in Italy, and the seventh-most supported team in Europe, ahead of any other Italian team.The owner of the club is former Italian prime minister and controlling shareholder of Mediaset Silvio Berlusconi. The vice-president is Adriano Galliani. The club is one of the wealthiest and most valuable in Italian and world football. It was a founding member of the now-defunct G-14 group of Europe's leading football clubs as well as its replacement, the European Club Association.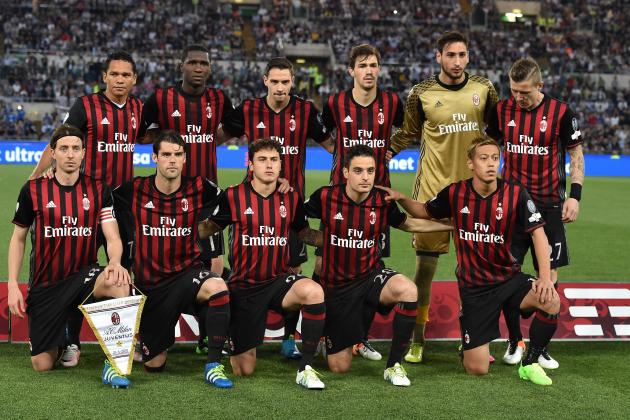 HISTORY
A.C. Milan was founded as Milan Cricket and Foot-Ball Club on 13 December 1899 by English expatriates Alfred Edwards and Herbert Kilpin, who came from the English city of Nottingham. In honour of its English origins, the club has retained the English spelling of the city's name, as opposed to the Italian spelling Milano, which it was forced to bear under the fascist regime. Milan won its first Italian championship in 1901 and a further two in succession in 1906 and 1907.
After Sacchi left Milan in 1991, he was replaced by the club's former player Fabio Capello whose team won three consecutive Serie A titles between 1992 and 1994, a spell which included a 58-match unbeaten run in Serie A and back-to-back UEFA Champions League final appearances in 1993 and 1994. A year after losing 1–0 to Marseille in the 1993 Champions League final, the team reached its peak in one of Milan's most memorable matches of all time, the famous 4–0 win over Barcelona in the 1994 Champions League final.
Capello's team went on to win the 1995–96 league title before he left to coach Real Madrid in 1996. In 1998–99, after a two-year period of decline, Milan lifted its 16th championship in the club's centenary season.Milan's next period of success came under another former player, Carlo Ancelotti. After his appointment in November 2001, Ancelotti took Milan to the 2003 Champions League final, where they defeated Juventus on penalties to win the club's sixth European Cup. The team then won the Scudetto in 2003–04 before reaching the 2005 Champions League final, where they were beaten by Liverpool on penalties despite leading 3–0 at half-time.Two years later, the two teams met again in the 2007 Champions League final, with Milan winning 2–1 to lift the title for a seventh time. The team then won its first FIFA Club World Cup in December 2007.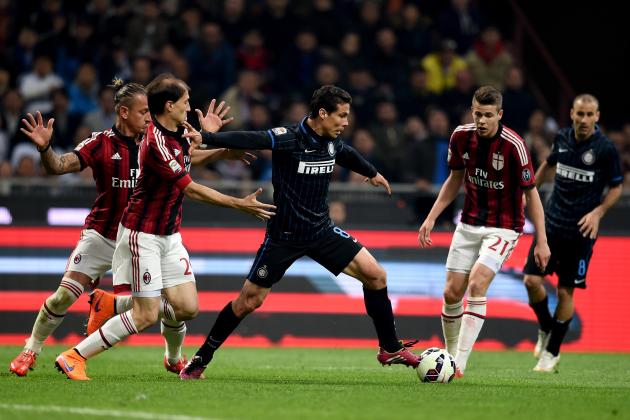 In 2009, after becoming Milan's second longest serving coach with 420 matches overseen, Ancelotti left the club to take over as head-coach at Chelsea.However, after the Scudetto the club declined in performance. It saw the club failed to qualify to European competitions since 2014. Fininvest, the holding company of the club also signed a preliminary agreement with Bee Taechaubol to sell 48% stake of the club for €480 million in 2015. However, the deal collapsed.
On 5 August 2016, a new preliminary agreement was signed with a Chinese company Sino-Europe Sports Investment Management Changxing Co., Ltd. , which Fininvest sold 99.93% stake of Milan for €520 million, plus the refurbish of €220 million debt .0.07% stake of the club were retained by other shareholders. On 12 August 2016, Jilin Yongda Group announced that the company would contribute 300 million RMB to Sino-Europe Sports Investment Limited Partnership, a Chinese private equity fund and the ultimate buyer of Milan. Yongda would be the junior trenche investor. It was reported that the fund would had a capital of 4.5 billion RMB. The management company itself had a paid in share capital of 100 million RMB.Eventually €15 million and a further €85 million was paid to Fininvest on 5 August and 6 September by Sino-Europe Sports as part of the preliminary deal.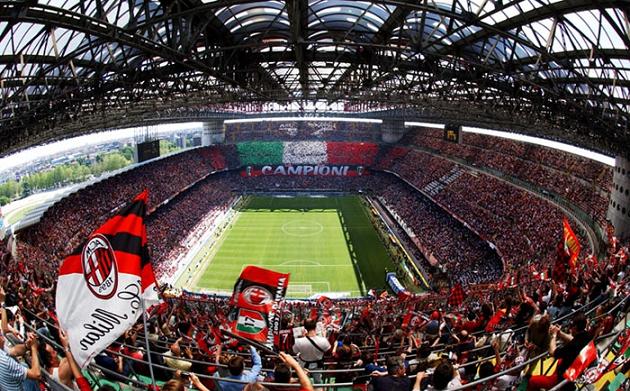 STADIUM
Giuseppe Meazza Stadium
The team's stadium is the 80,018 seat San Siro, officially known as Stadio Giuseppe Meazza after the former player who represented both Milan and Internazionale. The more commonly used name, "San Siro", is the name of the district where it is located. San Siro has been the home of Milan since 1926, when it was privately built by funding from Milan's president at the time, Piero Pirelli. Construction was performed by 120 workers, and took 13-and-a-half months to complete.
The stadium was owned by the club until it was sold to the city council in 1935, and since 1947, it has been shared with Internazionale when the other major Milanese club was accepted as joint tenant.The first game played at the stadium was on 19 September 1926, when Milan lost 6–3 in a friendly match against Internazionale. Milan played its first league game in San Siro on 19 September 1926, losing 1–2 to Sampierdarenese.
From an initial capacity of 35,000 spectators, the stadium has undergone several major renovations, most recently in preparation for the 1990 FIFA World Cup when its capacity was set to 85,700, all covered with a polycarbonate roof. In the summer of 2008 its capacity has been reduced to 80,018, to meet the new standards set by UEFA.Based on the English model for stadiums, San Siro is specifically designed for football matches, as opposed to many multi-purpose stadiums used in Serie A.
It is therefore renowned in Italy for its fantastic atmosphere during matches, largely thanks to the closeness of the stands to the pitch. The frequent use of flares by supporters contributes to the atmosphere but the practice has occasionally caused problems.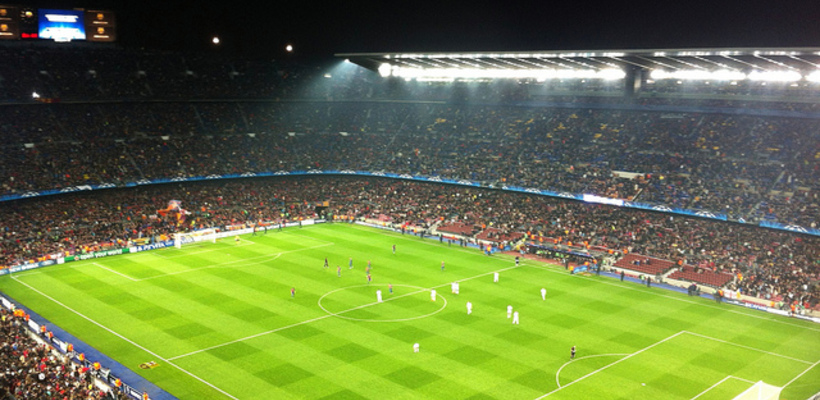 A.C. Milan Stadium
On 19 December 2005, Milan vice-president and executive director Adriano Galliani announced that the club is seriously working towards a relocation. He said that Milan's new stadium will be largely based on the Veltins-Arena – the home of Schalke 04 in Gelsenkirchen – and will follow the standards of football stadiums in the United States, Germany and Spain. As opposed to many other stadiums in Italy, Milan's new stadium will likely be used for football only, having no athletics track.
On 11 December 2014, Barbara Berlusconi announced a proposal to build a property stadium of 42,000 seats in Portello, behind the new HQ of the Rossoneri, and the large square "Piazza Gino Valle". The new village with shopping malls and hotel is located near CityLife district and is served by the metro.On 20 September 2015, however, Silvio Berlusconi has called an end to his club's plans to build a new stadium in the city.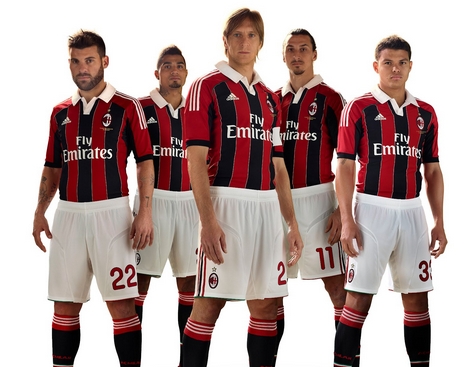 Honours
Milan is one of the most successful clubs in Italy, having won a total of 29 major domestic trophies, and was the most successful club in the world in terms of international trophies with 18 trophies until February 2014, when Al Ahly SC claimed that title. It is now the third-most successful club behind Real Madrid (20) and Al Ahly (20). Milan has earned the right to place a star on its jersey in recognition of the fact that it has won at least ten scudetti. In addition, The club is permanently allowed to display a multiple-winner badge on its shirt as it has won more than five European Championship Cups.
Paolo Maldini holds the records for both total appearances and Serie A appearances for Milan, with 902 official games played in total and 647 in Serie A (as of 31 May 2009, not including playoff matches), the latter being an all-time Serie A record. Swedish forward Gunnar Nordahl scored 38 goals in the 1950–51 season, 35 of which were in Serie A, setting an Italian football and club record.
He went on to become Milan's all-time top goalscorer, scoring 221 goals for the club in 268 games. He is followed in second place by Andriy Shevchenko with 175 goals in 322 games, and Gianni Rivera in third place, who has scored 164 goals in 658 games. Rivera is also Milan's youngest ever goalscorer, scoring in a league match against Juventus at just 17 years.Legendary tactician Nereo Rocco, the first proponent of catenaccio in the country, was Milan's longest-serving head coach, sitting on the bench for over nine years (in two spells) in the 1960s and early 1970s, winning the club's first European Cup triumphs.
Italian Prime Minister Silvio Berlusconi, who purchased the club in 1986, is Milan's longest-serving president (23 years, due to a two-year vacancy between 2004 and 2006).The first official match in which Milan participated was in the Third Federal Football Championship, the predecessor of Serie A, losing 3–0 to Torinese.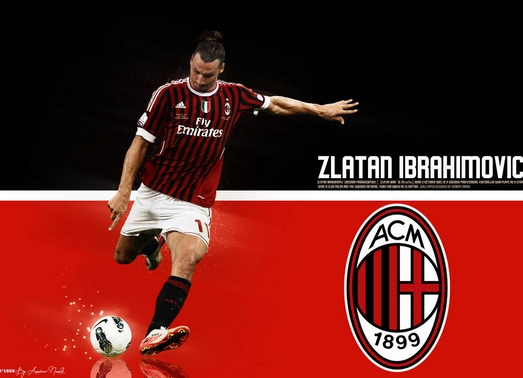 Milan's largest ever victory was 13–0 against Audax Modena, in a league match at the 1914–15 season. Its heaviest defeat was recorded in the league at the 1922–23 season, beaten 0–8 by Bologna.During the 1991–92 season, the club achieved the feature of being the first team to win the Serie A title without losing a single game. Previously, only Perugia had managed to go unbeaten over an entire Serie A season (1978–79), but finished second in the table.
In total, Milan's unbeaten streak lasted 58 games, starting with a 0–0 draw against Parma on 26 May 1991 and coincidentally ending with a 1–0 home loss to Parma on 21 March 1993. This is a Serie A record as well as the third-longest unbeaten run in top flight European football, coming in behind Steaua București's record of 104 unbeaten games and Celtic's 68 game unbeaten run.Since 2007, along with Boca Juniors, Milan has won more FIFA recognised international club titles than any other club in the world with 18 titles.
They were overtaken by Al Ahly SC from Egypt after their 2014 CAF Confederation Cup win.The sale of Kaká to Real Madrid in 2009 broke the eight-year-old world football transfer record held by Zinedine Zidane, costing the Spanish club €67 million (about £56 million.That record, however, lasted for less than a month, broken by Cristiano Ronaldo's £80 million transfer.This record, however, is in terms of nominal British pound rates, not adjusted to inflation or the real value of the euro. Madrid bought Zidane for €75 million in 2001, about £46 million at that time.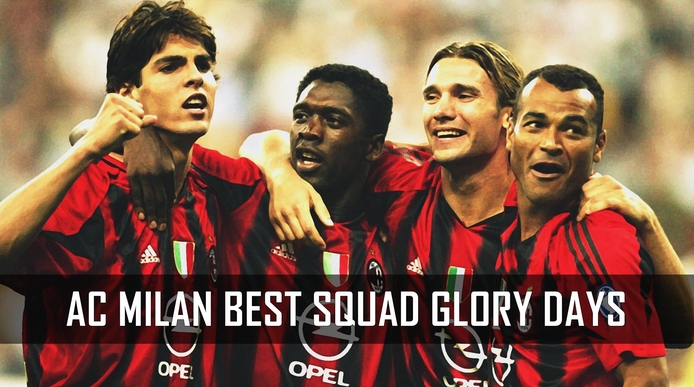 Supporters and rivalries
Milan is one of the best supported football clubs in Italy, according to research conducted by Italian newspaper La Repubblica. Historically, Milan was supported by the city's working-class. On the other hand, crosstown rivals Internazionale were mainly supported by the more prosperous middle-class. The oldest ultras groups in all of Italian football, Fossa dei Leoni, originated in Milan.
Currently, the main ultras group within the support base is Brigate Rossonere. Politically, Milan ultras have never had any particular preference,but the media traditionally associated them with the left-wing, until recently, when Berlusconi's presidency somewhat altered that view.According to a study from 2010.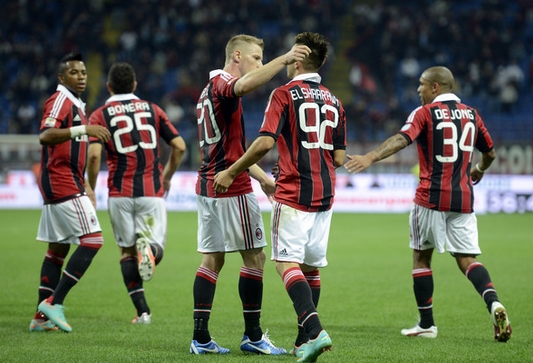 Milan is the most supported Italian team in Europe and seventh overall, with over 18.4 million fans. It had the ninth highest average attendance of European football clubs during the 2010–11 season, behind Borussia Dortmund, Barcelona, Manchester United, Real Madrid, Bayern Munich, Schalke 04, Arsenal and Hamburger SV.Genoa fans consider Milan a hated rival after Genoa fan Vincenzo Spagnolo was stabbed to death by a Milan supporter in January 1995. Milan's main rivalry, however, is with its neighbour club, Internazionale, where both clubs meet in the widely anticipated Derby della Madonnina twice every Serie A season.
The name of the derby refers to the Blessed Virgin Mary, whose statue atop the Milan Cathedral is one of the city's main attractions. The match usually creates a lively atmosphere, with numerous (often humorous or offensive) banners unfolded before the start of the game. Flares are commonly present and contribute to the spectacle but they have occasionally led to problems, including the abandonment of the second leg of the 2004–05 Champions League quarter-final match between Milan and Inter on 12 April 2005, after a flare thrown from the crowd by an Inter supporter struck Milan goalkeeper Dida on the shoulder.
Football F.C. enjoy playing your favourite football games and make a wager at SBOBET - Asian Handicap Specialist offering the best odds in Sports. Soccer Betting via mobile phone take an easy step-by-step guide and support in multiple languages.